Joana Vicente was born on October 3rd in Portugal's former colony Macao, China. Her parents are from Lisbon, Portugal. They still live there, including her brother and sister-in-law. Because her parents traveled a lot, she was raised and grew up between Macao, Lisbon, Madeira, and Mozambique. During the summers, while she was studying in the university, Joana started working in her first job, as an assistant producer to the Portuguese producer, Paulo Branco.
Joana graduated from the Universidade Católica Portuguesa with a MA in Philosophy and Political Science and met the American producer, Jason Kliot in Portugal and married in 1989. Joana and her husband have two children, Hannah Catarina Vicente Kliot and Anton Daniel Vicente Kliot, both born in New York, USA.
Before moving to New York, they lived for 1 year in Paris, France. In that period, Joana worked as the press attaché for the Portuguese delegate in the European Parliament alongside Maria de Lourdes Pintasilgo, former Prime Minister of Portugal, and then as a radio news producer for the United Nations. Joana is, since 2016, vice president of the Diaspora Portuguesa Council.
Joana is an independent movie producer and executive. A prominent figure in the New York film industry and has produced over 40 films with her producing partner and husband Jason Kliot.
In 1998, Joana and Jason founded Blow Up Pictures, the first digital production company in the United States. Their first film, Chuck & Buck, was the first digital film produced and distributed in the US. It premiered at the Sundance Film Festival and was nominated for 5 Independent Spirit Awards in 2001. Under the Blow Up banner, Joana and Jason also produced such films as Lovely and Amazing, Series 7: The Contenders, and Love in the Time of Money.
In 1999, Joana and Jason produced Tony Bui's feature debut, Three Seasons, which took the 3 top awards at the Sundance Film Festival, including the Audience Award and the Grand Jury Prize.
Joana and Jason have since worked with directors such as Steven Soderbergh, Brian De Palma, Hal Hartley, Nicole Holofcener, Jim Jarmusch, and Alex Gibney.
Joana and Jason are co-founders and presidents of Open City Films, a production company of feature films and documentaries with an acclaimed catalog of films including Three Seasons; Enron: The Smartest Guys in the Room; Coffee and Cigarettes; Redacted; The Assassination of Richard Nixon; Welcome to the Dollhouse and Awake. Throughout the years, their films have been nominated for 23 Independent Spirit Awards – 4 have won. Their films have also been selected numerous times for the Cannes, Berlin, Venice, and Toronto International Film Festivals and have garnered 4 winning trophies at The Sundance Film Festival.
In 2003, Joana and Jason co-founded HDNet Films with Mark Cuban and Todd Wagner. The company produced 18 films in 5 years, all shot on digital video. The HDNet Films production of Steven Soderbergh's Bubble was the first film ever to be released "day-and-date," in the United States, simultaneously opening across theatrical, cable, and satellite television and home video platforms. This innovative distribution strategy allowed consumers to choose how, when, and where they wished to see a film.
Films produced under HDNet include Academy-Award nominated Enron: The Smartest Guys in the Room and Redacted, which took the Silver Lion at the 2007 Venice Film Festival.
Joana has served as the Executive Director of Independent Filmmaker Project, the nation's oldest and largest organization of independent filmmakers, from 2009 till 2018. Under Joana's leadership, the Independent Filmmaker Project was bestowed with the honor of developing and operating the Made in NY Media Center after a request for proposals was issued by the New York City Mayor's Office of Media and Entertainment and the New York City Economic Development Corporation, that opened in Dumbo, Brooklyn in October 2013.
In 2013, Joana was named to Variety's Women's Impact List and Marie Claire's New Guard power list. She also served on the World Cinema Jury for the 2013 Sundance FilmFestival.
In 2014, she was named one of the Brooklyn Magazine's 100 Most Influential People in Brooklyn Culture.
In 2018 Joana was hired by Toronto International Film Festival (TIFF) as the Executive Director and Co-Head.
I'm very proud of my kids! I'm so proud of many of my films and I'm incredibly proud of being the co-leader of this incredible organization, I always looked at TIFF as the gold standard Joana Vicente
Revista Amar: Tell us a little bit of yourself…
Joana Vicente: I was born in Macao and was raised… really all over… I lived in Lisbon, Madeira, then we went back to Macau when I was 13 years old for another 2 to 3 years.
RA: Did your Portuguese background have an impact on your life and did you adopt our traditions, our music, and food culture?
JV: Yes, absolutely. I love Portugal.
RA: But you don't BBQ sardines in New York? (laugh)
JV: (laugh) No, I don't BBQ sardines (laugh), but actually, my husband wishes that I would, because he loves sardines. I always miss having Portuguese food, obviously, I cook international food at home, but a lot of Portuguese dishes too. My Portuguese heritage has an important role in who I am and in my life.
RA: Joana Vicente is TIFF´s Executive Director and Co-Head. What are the tasks and responsibilities of an executive?
JV: It´s a big job (laugh) and a big organization and I really oversee the business of the organization. I work closely with my co-head, Cameron Bailey who is the Artistic Director. We both set divisions for the organization and make sure that's implemented so we run a sustainable and vibrant organization.
RA: TIFF is celebrating its 44th anniversary and the 45th of the festival… and TIFF's first woman as Executive Director?
JV: Yes… before I came in, Piers Handling was the CEO and Michele Maheux was the Executive Director, but then they restructured, instead of having just one person at the top, they have two to share the duties… so, now Cameron and I, both serve, I guess, as CEOs.
RA: You are mostly based in New York and I guess you travel back and forth a lot from New York. How has it been during the pandemic?
JV: I haven't left Canada since we shut down the building back in March, I think March 14th. My husband is here and usually he's between New York and Toronto… same for me, before the pandemic! And my children actually were able to come in and stayed for 2 months, but now they are back in the States.
RA: Now that you are in Toronto for quite a bit, are you engaged with the Portuguese community?
JV: Not yet. I moved here at the end of 2018, it's going to be 2 years and TIFF is a big organization and obviously, it was a big transition for me and because the former CEO was here for so long, it took a while to take the organization in a certain way and then this crisis accelerated… I had to think about what the future of TIFF should be. It has been an exciting time but not a lot of free time between the focus here and my family in New York, the back and forth. However, I already went to a couple of Portuguese restaurants that I love, and recently I was at the premiere of the film "Fátima", where I met the Portuguese Ambassador.
RA: It was nice to see you there. Although the film "Fátima" is in English, the storyline is about the Portuguese Catholic church and in Portugal. Films like this serve a purpose, but will never fulfill what we feel about it. What is your opinion about the film?
JV: So… I'm not particularly religious but obviously, I was raised Catholic and grew up listening to Fátima and the 3 shepherd's story and it is part of our collective knowledge and history. Of course, there is some pride in having our story being shared. It's a nice film, beautifully done and my friend, Harvey Keitel, is in the film. We actually called him from the car, on the way to the drive-in. (laugh) And my friends are distributing the film here in Canada and also in the States.
RA: And you got to meet members of our community.
JV: Yes, absolutely! And it was nice to see the drive-in because we are going to be there for TIFF, so it was a good run to be there and rehearse.
RA: You must think of New York quite a bit…
JV: Yes, I definitely miss New York… because New York is home for our family for so long, also Portugal. My family is in Portugal, I'm thinking after the festival I might go to Portugal and then back to New York.
RA: How many years have you been living in New York?
JV: Over 25 years.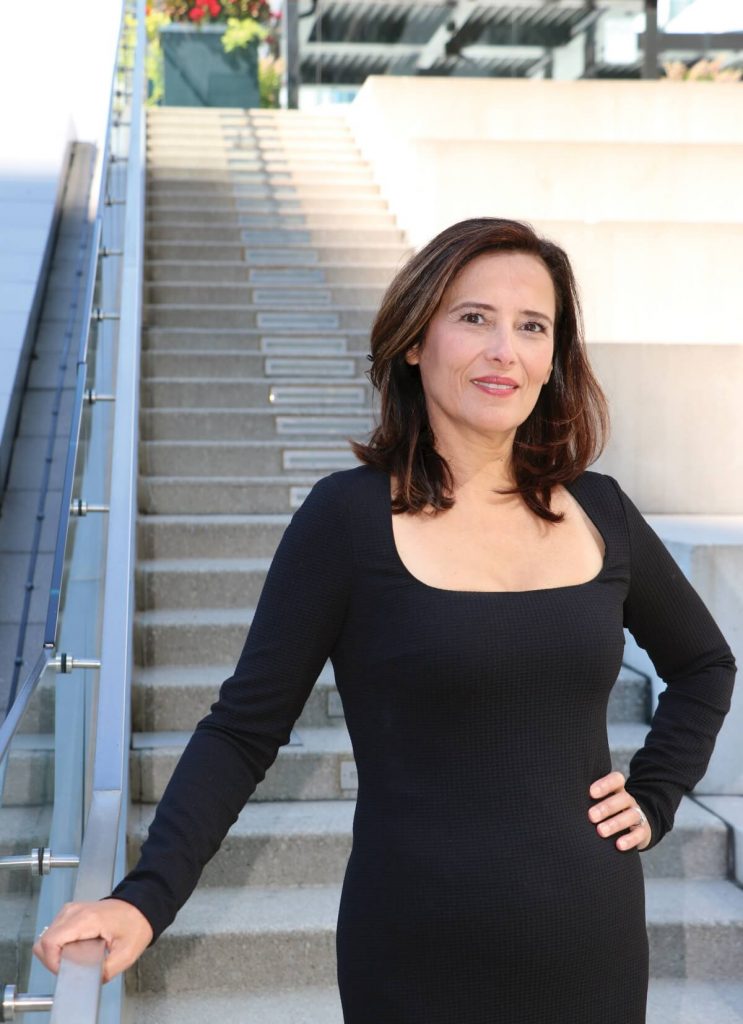 RA: Your company is around for 20 years and you have produced 40 films. That's an amazing feat… but how did you get into this business?
JV: I always love film and I started while I was in university, Universidade Católica Portuguesa, in Portugal. During the summers I started working as an assistant to a producer, actually a well-known producer, Paulo Branco, who gave me my first job. After I finished university I started working in radio and politics, but film was my passion. So, eventually, my husband and I started producing short films, music videos, public service announcements, then we produced our first feature… so, it was kind of organic how we started building our careers.
RA: Have you decided to leave the production of films and only concentrate on being Executive Director of organizations like TIFF or are you still producing and making films?
JV: Obviously, this is a full-time job… very hard to do than anything else, besides this. In 2010, I was on the Board of this organization in New York, in the Independent Filmmaker Project, for 5 years. The Executive Director was leaving and it was a kind of a hard time after the financial crises. We had to look into what would be the future of the organization. When I came, I was supposed to stay for 6 months to 1 year, just to get the organization into shape and to find someone else to lead and I ended up staying! The Board asked me to stay and I was having fun, so… But I still produced a couple of films and was the Executive Producer on Nadine Labaki's film, "Capernaum" which was nominated for an Academy Award and Golden Globes last year and the film was actually at TIFF at the time I was nominated for the position.
RA: What makes a good producer?
JV: There are so many elements to producing… you have to find great material, you need to package the project like selecting the director, cast… a package that's viable and then you need to put the financing together, you need to oversee all the production and after the post-production and marketing to really put the film in the marketplace and usually I go to the festivals like TIFF, Sundance, and others to launch the film… just a lot of skills needed to produce, that actually translates well to run an organization.
RA: Wasn't your father an architect?
JV: Yes… but actually my mother, my brothers and his wife too (laugh)… I'm from a family of architects! I'm the only one who didn't follow their footsteps.
RA: Well, you are an architect in the visual sense… Did your artistic, creative, and visionary capacity come from being surrounded by creative people like your parents?
JV: I'm sure… my parents were very creative and we were always surrounded by intellectuals and artists. So, that's how I grew up. My father also loved film, like Antonioni, Visconti, Fellini, and French filmmakers from the "nouvelle vague"… I really grew up surrounded by the love of music, film, architecture, art…
RA: Did your family expect you to become what you became?
JV: I'm not sure (laugh)… They probably would have liked me to follow their footsteps, but my father loved film, so I think he was actually excited about that … and also, they traveled a lot, they loved to travel. They lived all over… they lived in India before I was born, they lived in Macau, Mozambique, Madeira… we were always somewhere. Lisbon was the base and my family on both sides were in Lisbon, but we lived in a lot of different places.
RA: The traveling gave you a different sense of the world and how it works with different traditions and cultures… Did traveling around the world have an influence on you and an impact on your film productions?
JV: Oh, absolutely. I think it just kind of gives you different perspectives. Living in different cultures makes you just more open and you don't take anything for granted and you are less strict about how things should be… I think it just gave me the flexibility to adapt easily to different situations.
RA: The film industry in New York, kind of rocked because of that famous producer (H. Weinstein). Power and money can be used as weapons against men and women in the entertainment industry… Do you find that very powerful people still have a huge influence on the people in this industry?
JV: I think so… but I also think it's still there. Obviously, the #metoo movement has really helped people speaking up, therefore I think things will change, but it will take time. I've been there for a long time and sometimes you see it in very obvious ways, sometimes in very subtle ways but it has always been there. As a producer and I've worked with my husband, as partners in our production company, so I was never in a vulnerable position… I experienced it in subtle ways, as people would first talk to my husband instead of me, even though we both were owners of the company and producers. Thus, in subtle ways, I always felt it, but I was never, you know, in a position of vulnerability.
RA: Do you feel, that particularly in this industry where people are paid to entertain others, which isn't an easy industry to be in, the glass ceiling for women has risen or, is it still difficult to achieve the same things that men achieve?
JV:  I definitely feel that things have changed and there are a lot of great examples of women's leadership and women that have done extremely well, but I think it's still harder for women… we still have a ways to go, even with our demand for equal pay. With TIFF we have the "Share Her Journey" campaign to support women, giving them the skills and also creating networking opportunities, mentorship… so, really helping to close the gap. I think that the great thing when you have women producers or directors is that we are more likely to hire other women to work on the crew because you hire who you know and who you like to surround yourself with. My husband and I, when we were producing films together, would always have women in key positions and if we were working with men directors, like in "Three Seasons", our cinematographer was Lisa Rinzler. So, we worked with a lot of women cinematographers, production designers… we always made a point of that.
RA: As TIFF's first female Executive Director, a woman in a leadership position, you have some focus on you. Do you feel some responsibility to show the film industry, which is huge in Canada, that you can do it, that it can be done – that Joana Vicente is up to the challenge and is going to do it?
JV: I absolutely feel that responsibility, because we need to inspire other women to fit in as leaders. A friend of mine in Germany was telling me that someone asked her son what he wanted to be when he grows up, he answered "I would love to be the Chancellor, but I don't know if men can be" (laugh)… because he has grown up having a woman as a Chancellor and that's amazing! This is what happens when we have those role models and we can see the possibilities. It's fantastic!

RA: Someone wrote about you: "Joana Vicente, wants to make her mark, yet do it subtlety". What is that mark and legacy that you feel you are accumulating for your life?
JV: I always cared deeply about the film and the power of film. It really aligns perfectly well with TIFF's mission and it does transform the way people see the world, so I think we can use it for a good purpose, to have an impact, to help change society to be better and I also want to continue to do as much work as I can in supporting women in the business and making sure that we get to a place where this is not a conversation anymore, where there is true equity and opportunities for everyone.
RA: The film industry has changed quite a bit in the way movies are being produced. Do you feel that this change in film production, by trying to attract the younger generation especially with movies that are based on games and things of that nature, is healthy for the industry?
JV: Well, those are the films that are performing very well in the box office, so I guess it's healthy in a way that keeps it vibrant. I'm more interested in authentic voices and original films that challenge us to think differently about things. Sometimes those big tentpole films end up being more comfortable, even with great imagination. I love films that really push the envelope, whether it's statically, politically, or socially… that affects us emotionally.
RA: We see more and more movies on tv and streams. How do you see the financial capacity in the future, so everybody can survive?
JV: Well, in the long term I don't know what will happen, but for sure even before the pandemic we were already kind of in a big transition point, where everything is influx and obviously these big streaming platforms are gaining a lot of power and the danger is that there is less diversity in the storytelling and that they cater to a common denominator with less experimentation… so, that's the danger when big companies have all of the power of production and financing. The question is, how do we keep a healthy ecosystem where you have the big films, where you still have big voices that are exciting and diverse that really represent the society and the world where we live in? Ideally, we can keep that ecosystem vibrant and platforms can actually commit to that…
RA: … in a financial commitment, because right now certain companies show the films but don't pay anything for it to make the film industry vibrant, and that's essential to the future of it.
JV: Absolutely. On the other hand, because there's so much content being produced – I mean now it's difficult because of the pandemic, it's just starting up – there is also more opportunity for creators and it's a good time for creatives.
RA: Well, I'm sure they have been in their basements for the last 3 to 4 months writing new stuff. (laugh)
JV: Hopefully, yes. (laugh)
RA: But I'm also sure that there are a lot of artists that must be struggling because staying at home this amount of time without a paycheck must be complicated…
JV: Yes, a lot of artists aren't of course on payroll, they work job to job, they are independent contractors… for sure it is really hard because they might not have access to their basic salary like someone else. So, it's a really, really tough time for freelancers.
RA: As you said, TIFF is celebrating its 45th anniversary and you are at full tilt organizing this year's festival, beginning on September 10th. Looking back at the way it was organized in the last few years and the way it's been organized this year and the structural implications of putting everything in place and together, especially this year with Covid-19, what's your biggest challenge, this year, in putting one of the biggest film festivals of this type in the world, compared to other years?
JV: Where to start… we obviously have had challenges that had a big impact financially on us. A lot of the revenue that supports the organization year-round comes from the festival and that's a combination of sponsorship and ticket sales. This has been really impacted, even though our major sponsors stayed with us and are committed to helping us. We had to cancel a lot of the activations and instead deliver to them in digital properties, a lot of sponsors really rely on the live activation, the festival street around the event, and bringing their guests to entertain during the festival, so all of this money was lost. And then there is the fact that we are very limited, we are going to have screens in drive-ins, here at the Lightbox but no more than 50 people because right now it's the maximum gathering of a group of people we can have and then there are also all the health and safety protocols that we have to have in place, adding to all this the border is closed and we can't have any guests… it's an incredibly challenging year, but at the same time, we are so excited that we are actually doing something…
RA: As you said, TIFF is celebrating its 45th anniversary and you are at full tilt organizing this year's festival, beginning on September 10th. Looking back at the way it was organized in the last few years and the way it's been organized this year and the structural implications of putting everything in place and together, especially this year with Covid-19, what's your biggest challenge, this year, in putting one of the biggest film festivals of this type in the world, compared to other years?
JV: Thank you. It has been very challenging but also gratifying and exciting that everyone teamed up and collaborated so well. We were able to pivot and create a fully digital platform, not just screen films but host talks too, engage with different stakeholders… so, it will be something exciting and I think we are learning from this year and will keep some of these new elements for the years to come and we are hoping that we also put some spotlight on films and the industry, that we get business done – that movies will be sold.
RA: What about the educational side of TIFF? There is an educational component, correct?
JV: Yes, so we have a strong educational component but right now we are only focusing on the festival's core activities and then we will at some point, in the Fall, reopen the building and start showing films, both new releases and cinematheque programming and also bringing talks and conversations that help give context to films, but it will be a slow ramp-up because we want to do it safely and make sure that people feel comfortable coming back… and we will still use the digital platforms.
RA: Looking back, what are you most proud of?
JV: I'm very proud of my kids! I'm so proud of many of my films and I'm incredibly proud of being the co-leader of this incredible organization, I always looked at TIFF as the gold standard, and it was always one of my favorite festivals because it combines the best audiences, it's a great place to do business and the presence of the international press… it's really a great festival! Personally, it's an incredible privilege to be here and I don't take it for granted.
RA: What do you want to change in the world with your vision and your ability as a filmmaker and as an executive?
JV: I want to make sure that this crisis, at this moment that we all are living through, doesn't go to waste, what I mean is that we really need to learn from it… learn from the decisions that we had to make quickly, how we had to work more collaboratively, not to be afraid and take risks and go for what we believe. The right thing to do, was to host this year's festival, in a very safe way but also having a big virtual presence. We are making sure that we accelerate and continue to be relevant, and we are not afraid of taking risks.
Entrevista conduzida por Manuel DaCosta
Transcrição: Carmo Monteiro
Redes Sociais - Comentários