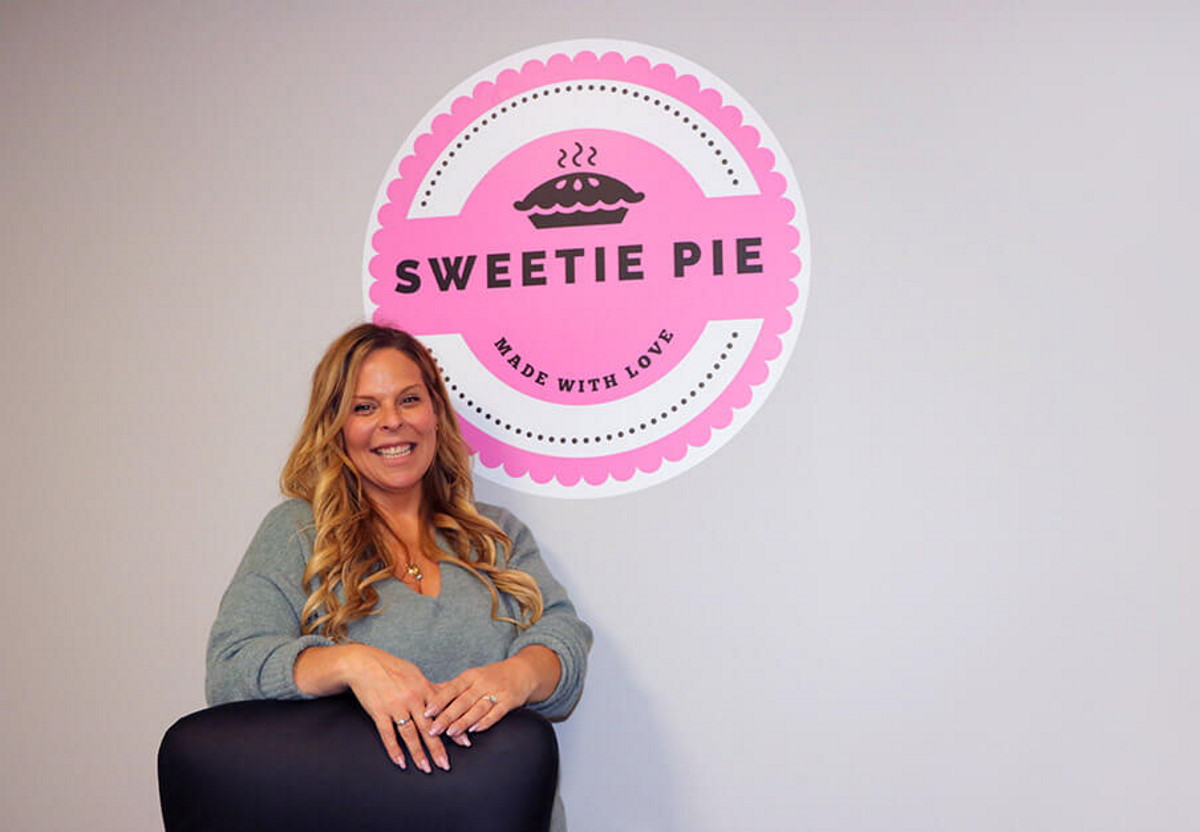 The first Sweetie Pie shop opened on July 1, 2020 at 326 Harbord Street in Toronto. Since then, six more shops have opened in different Toronto neighbourhoods. The amazing and unexpected growth of Sweetie Pie in less than two years, "forced" owners Cesário Grinjo and Tina Hatton to expand the kitchen which triggered their recent move to a new and bigger facility located in North York. Revista Amar visited the new facility and chatted with Tina about what's going on at Sweetie Pie now, and what we can expect from them in the future.
Revista Amar: Sweetie Pie hasn't been around for a long time, right? You open the first bakery in 2022 and yet, you already open a few more since. Which one is the most recently?
Tina Hatton: Yes… and our most recent location is at Yonge St and Fairlawn Ave.. So, it's just north of Lawrence Ave on Yonge St.. It's beautiful flagship store up there. It's all covered in glass and it's just absolutely white, beautiful and big… and it's actually been well received by the neighborhood. It's one of our busiest stores. We have great foot traffic and we're on a corner. People really love the products and the staff. So, it's actually been really successful.
RA: And now, how many bakeries do you have in total?
TH: We have seven bakeries… and then we have the main commercial kitchen.
RA: Talking about kitchen… this is a brand new one. Why did you change the location?
TH: Because we needed to grow. So, the kitchen we had in Etobicoke was way too small for production and, as you could see. from doing the tours out there, we now have the space to move. We have different stations and different areas. Our last kitchen was probably a quarter of the size, so everyone was on top of each other and there was no room for separation. As we grew and wanted to add people to the team, we had nowhere for them to work, therefore we decided it was time to move to a bigger facility and this facility was just an empty warehouse. In fact, Cesário Grinjo – my partner – designed and built this and it was just a big empty space. The kitchen that you're seeing, all the equipment, everything design wise, was all Cesário.
RA: And when did you open in this location?
TH: We moved here the week before Thanksgiving, which was probably the craziest thing we could have done, because Thanksgiving is the busiest time we have. We moved in here on a Friday, a week before the Thanksgiving… we packed everything up on a Friday at the old kitchen (laugh)… we had the movers come move it all in the Saturday and myself, Kristin – my head baker – and a few people came in and started to unpack. On Monday the electricians came in and we´re up and running by the Wednesday and then we had to have production ready for Thanksgiving by the Friday. So… it was pretty tight.
RA: Presently, how many people do you have working for you in the new kitchen?
TH: In the kitchen we have 13 baking staff and their responsibilities are all different. We have two main dough makers, a chef, three bakers and about four bakers' apprentices and we have cookie scoopers and different people doing different jobs. So, in the kitchen there's probably about 13. There're two packers which pack all the goods and that's just for Sweetie Pie. Doesn't include any of the other businesses that we've got included here.
RA: Do you have any perspective to open a new store in the near future?
TH: Right now, we're building first Canadian place. So, we do have a store that's under construction right now that'll be in the path. It should be open in the next six weeks and then we're going to be opening one at University Ave., near the SickKids head office.
RA: Sweetie Pie has a did big and amazing variety of pies and tarts. However, have you added any new products to your menu?
TH: We´re always adding new products or trying new recipes and revamping the recipes we have. So, our staples are maintained the same. We have seasonal pies and standard pies… we have butter tarts and brownies… the things you see in the store we will always have. Sometimes the bakers, in different stores and different locations, come to me with ideas of things they want to try. We partnered with Dolce Chocolate and one of my stores does take their chocolate chip mint bark and incorporates it into brownies… so, at our Danforth location, you can get mint chocolate chip brownies. Our Distillery store has done really well with tarts, therefor we took our chocolate bourbon pecan filling and filled it into butter tart, so they sell it down there. Our baker at Herbert Str. is vegan, so she comes up with different vegan ideas and was doing raspberry vegan scones. But, we're something vegan might do really well at Harbord, it won't do so well, say in Unionville. Unionville does things that are more prone to sell up there and so, they sell a lot of coconut cream pies and a lot of different things. Every store has a little bit of a different feel for a few products, but for the main staples, they usually stay consistent.
RA: How do you manage or plan all this the areas? As you just said, different locations, different people, different tastes, different likings, right? For example, how do you decide which location should be vegan?
TH: Once we move in, we try finding areas and trendy neighborhoods. We try and look to see what's the need in that neighborhood? So, if we're looking at Yonge and Laurence, our real estate agent was looking at different things and, you know, found this really great spot and we thought that it was a really nice area…. it's a lot of families, there's a dance studio right by, and although there's other bakeries, we're very different. We're a pie shop… we've got ice cream and we've got pie. We don't stray too far from it. We don't do breakfast sandwiches or other different things. There are other places for that. What we found was, is that it's a nice place for families to come and so, we sell a lot of our pies and a lot of ice cream there. On the other hand, Queen Str. is very young and it's very trendy and we get more people who don't, necessarily, want to bring home a large pie to their family because they're young and they're living on their own, but they'll pick up tarts, they'll pick up more cookies, they'll pick up more small pies that are individual things. So, we try and market… "What do we know about that neighborhood?". We opened Harbord back in July of 2020 and there's a very large vegan population in that area. People want to eat differently there. So, like I said, we cater to kind of the neighborhood once we get to know them. We have three pillars that we look at as kind of how we run our business. One of those pillars is becoming part of the community and getting to know the community members. So, knowing who's coming into our stores or who's living in those areas is really important and that's how we decide kind of how we're going to change things up and make each store part of that community and kind of go with the culture of that neighborhood.
RA: There was the talking and planning to sell your products in some more specialty gourmet shops wholesale. How is that going?
TH: That´s so funny. Actually, Cesário has had talks with a few different specialty grocery chains and a few specialty restaurants, but different people have approached us wanting to purchase our product and sometimes either put our brand in it or use our product under their label. So, Cesário manages most of that and we're really excited about that, because what it shows to us is that we've got such a good quality product that people want to people want to put their name on it. Our brand is synonymous with good quality… it's handmade and you saw that when you walked through the kitchen. Yes, we have machines helping us, but it´s people making the lattice and the dough. You know, we hired a diverse group of people with diverse backgrounds and skill sets and we try and utilize those skills. And then we also train them to do different things. So, we're actually really proud of our teams in the stores and in the main kitchen. As I said, Cesario manages more of the wholesale out of that idea, but we're super proud of the fact that our team is creating such a wonderful product that people want it and they want to put their name on it.
RA: Before this new kitchen, how many pies, would you say, would do a week and how many are you doing now?
TH: It just depends of the different seasons of the year. Thanksgiving, which was what, a few weeks ago?… wiped us out. We have never seen so many pies sold and there were a few times we actually had to kind of shut down orders and revamp and make some more pies. We even had an apple shortage. We´re trying to find apples to make the apple pie… like, it was crazy. So, you know, on any given day, we could be making anywhere between 500 to 700 pies. But again, we've got so many different flavors. So, it could be 500 strawberry rhubarb pies and 300 apple pies… and we also have the different sizes. So, it depends if we're doing large pies, it takes longer to do the larger pies because of the lattice and sometimes we just change it up and say "you know what, we've got a lot of filling and we need pies. We might crumble today.". And so, then the stores get these surprises of apple crumbles or blueberry crumbles, and then the customers are like "Oh, it's exciting because now we've got a crumble"; because we don't do it all the time and it's kind of like a nice surprise for people to change it up. But at any given day we're making different pies, cookies… there's a lot going on all the time.
RA: What about Sweetie Pie´s future. And what would you like to grow? What kind of growth would you like to see for Sweetie Pie?
TH: So, we have plans for a few more stores and people have approached us since Cesário has looked at whether or not we might become something like a franchise, which is super exciting. Again, we have all these wonderful stores that we manage and we do and the fact that so many people are interested that they want to own a Sweetie Pie and run a Sweetie Pie… blows me away, because this started as an idea of maybe something I would do to retire and that I would have one little store and I would just run it, instead we're now at seven stores and a 16,000 square foot kitchen and production area. So, it still baffles me on where we're at and how we got here in less than 3 years. I guess we're just over two years. Therefore, growth wise, if Cesário has anything to do about it, we're never going to stop growing. For me, I'm just so grateful and I just look at each store is still my… like "my little baby", right? Every store has its own special place for me and as I said, as we grow and we get to build new stores and new relationships and new communities, they're all just so wonderful. So, I don't… I don't know. The sky's the limit. I'm super excited if we do look at franchising because then we get to work with someone and have it been their dream as well. So yeah, that's where I see it kind of going.
RA: I would like to invite you, to invite our Luso-Canadian readers to come to Sweetie Pie?
TH: It's funny, I'm marrying into a Portuguese family, being very Canadian, it's very different and I love bringing our products. His family loves our pecan pie. They love our apple pie, but it's also trying to, you know, build that relationship around something different and to try it. How would I invite people to commit? Well, you've got to just try it. Like you've got to come in… it's a great place to come for a coffee and a piece of pie. You can enjoy time with your family and your friends and that's part of what it is… it's about food and family and sharing. I think that that's where we would want the Portuguese community to come because family is so important to the Portuguese community. You know, that being together and celebrating is also so important. So, having one of our large pies as a part of that, you know, to sit and be with each other is how I would probably ask people to come and give us a try.
Redes Sociais - Comentários